Photo By ro431977 via StockPholio.com
We picked Syracuse Sicily!   Siracusa sits on the east coast of the island (right off Italy's toe) for the weather, culture, history, food, and location.    Syracuse has mild, but wet, winters and hot dry summers and everything in between.  They only get 22 inches of rain per year, so the climate is arid Mediterranean.   The town has 125,000 people and 97% are Italian.  Those who retire in Syracuse, Sicily will find both an ancient and quite modern city with interesting neighborhoods and things to do.
An ancient city, Syracuse has been occupied by the Greeks, Romans, Carthage, Christians and Muslims, the Germans in WWII and then General Montgomery's Eighth Army.   The area has been known as the most beautiful of the ancient Greek cities with a huge theatre, the Piazza Del Duoma, and fountains.   The Romans left an ampitheatre, cathedrals, catacombs and quaries.   The town has the Foro Italica a beautiful promenade perfect for walking on hot summer evenings.   There are wonderful outdoor markets for fresh produce, fish, fruits and merchandise.   Local artisans sell hand-made paper from papyrus, local pottery, and liquors.
Syracuse is budget friendly with rents in town ranging in the $400-$600 range for a one bedroom apartment in town.    Add another $200 for utilities – you certainly won't need much heating!   There is train service, bus service, Ferry boats to Malta and Italy proper, and an airport nearby.
If a picture is worth a thousand words, here's a million for you to ponder in a video!  You will see why we loved Syracuse!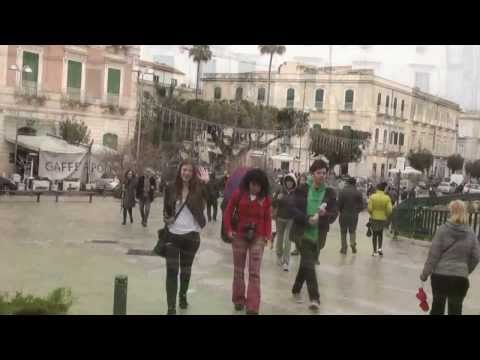 Zoom in and out on the map below to see roads and attractions!