I have been to Thailand many times, and I love it here. Imagine the nicest, most friendliest people on earth. Everyone is smiling and their happiness is contagious. Now imagine mouth watering food, sandy beaches, an amazing culture, and the cost of living is very affordable. This is one of my favorite places. And here are 4 wonderful reasons to retire to Chiang Mai Thailand.
1. Low cost of living
You can easily live on $1200 per month in Chiang Mai. Very nice condos go for around $300 to $400 per month, and this will give you plenty of pocket money for your other expenses. Sure, you could find less expensive places in Chiang Mai, but for this price you will be living quite well in a nice place in a great neighborhood.
Please note –  foreigners cannot buy homes here by law (they can buy condos under certain conditions). But the rent is so cheap, I really don't see any reason why you would want to buy a home anyway.
Food is very inexpensive, health insurance is inexpensive (and very good I might add). If you are struggling to make ends meet in the US, you can easily upgrade your lifestyle here in a hurry.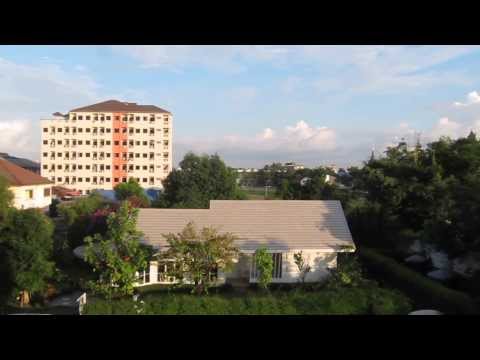 The above video is an example for what you can find for $300 per month.
2. Happy people everywhere
Thailand is very aptly named the land of smiles. Each time I go there, I am greeted by many friendly faces who are always laughing, smiling and willing to strike up a conversation. I think perhaps they owe this unending cheerfulness to their Buddhist culture. I truly believe this is the happiest place on earth.
3. The food is amazing and cheap!
It is no secret that Thai food is some of the tastiest food on the planet. Just about everything is very inexpensive, especially the food. You can eat very delicious Thai food from a street vendor for about 1 to 2 dollars per meal. And the street food is mouth watering fantastic. If you want a sit down type of restaurant with some air conditioning, it will cost a little more, but it is well worth it on a hot day.
Thailand is also famous for its abundance of fresh fruit and its seafood. I like eating at home mostly, because I love to cook. I love cooking at home so I can control the healthy ingredients and the costs.
4. The Culture
There are beautiful ancient temples all over Chiang Mai. I admire the way the people embrace their culture and heritage. They are a proud people, and generally very spiritual. My heart fills with joy whenever I go there.
Things to consider first before coming here
I was a little nervous when I rented a car while travelling over there. I have never seen such wild driving in my entire life. To ease the stress of this traffic, I suggest that you hire Taxis and Tuk Tuk drivers (three wheeled motorcycles). Tuk Tuks are inexpensive to hire, and so for all of my trips to Thailand I just flag down a Tuk Tuk driver and feel a little safer. You will be surprised, with all of the craziness on the road, nobody uses their horns. There is no swearing or anger. Again, three cheers for the Buddhist culture!

The above photo was taken by Gary in 2013 in Chiang Mai, Thailand
 Zoom in and out on this map of Chiang Mai to see its streets, highways, and attractions